Hello Beautiful, I'm Jocelyn
Feminine Mentor for the woman who desires deeper physical intimacy in her relationship and is ready to embody the power of her feminine essence.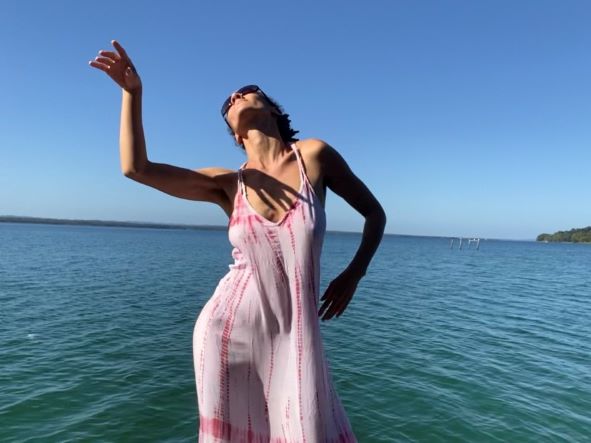 I have evolved from rock bottom to thriving in self-love, courage, and deep intimacy with life.  Due to the guidance of my breath and my body I live free from the self-restraints that use to tie me down. Similarly, as your feminine mentor, I will guide you into the experience of the body in deep exploration.
Together, we will discover the parts that are unknowingly closed and awaken them to their fullest expression. Subsequently bringing you to a place of confidence, trust, and intimacy with your body and your life.
Evolution into a feminine mentor
I often call myself a chameleon because I am constantly changing, and constantly evolving, and I love it!
Although I have been on a self-healing journey since I entered my 20s it has not been an easy road. I took a lot of wrong turns leading to addiction, depression, sexual trauma, and revolving childhood coping patterns that repeatedly led me into the darkness of the shadows.
But it is in the darkness that we find our light and remerge stronger, more beautiful, and wiser.
Working and studying as a Massage Therapist for ten years led me to intimately understand the body. Because of this, I was able to heal my years of chronic pain and trauma, exponentially expanding me.
My journey into the body began with yoga and has remained a constant practice for almost 20 years. Then I unknowingly stepped into the world of Yogic Intimacy, awakening my relationship with the feminine. Since, I have studied with world-renowned teachers including David Deida, Nina Lombardo, and Lisa Page.
Zen meditation has been an integral grounding practice for over a decade and I have participated in several silent meditation retreats. In addition, I earned a bachelor's degree in Psychology and Sociology from CU Boulder.
Though these teachings and practices have supported my growth and expansion, books and study can only get us so far.
It is in the years of self-study and courageously engaging with life that I have done my deepest work. Above all, I have faced the darkest parts of myself with love and compassion. Consequently, through overcoming these experiences I truly blossomed and have since evolved into a feminine mentor.
Building a dream
I am building a women's retreat center in Guatemala. A place where women can come on retreat by themselves or with teachers. Where women working on a passion project can be held and inspired.
A place where spiritual leaders, teachers, and mentors can offer retreats in honor of the Divine Feminine, and Pachamama.
We will have a Red Tent where women of all ages can celebrate their cycle and menstruation. To make this possible, women can plan retreats when they know their bleed is due. Particularly, we will offer the gift of being held and nurtured in the community during menstruation. This is a magical experience that I wish for all women to experience. Women will have permission to rest completely with absolutely nothing to do. Then, taking the experience home with them as a reference for their following cycles.
In addition, this is an open-arms community for local women who are seeking safety and support. We will build community through permaculture, arts, and cultural projects, as well as education about the body.
Furthermore, the project will grow fruit trees and wild medicinal plants and build safe walking trails. This will be a place to sing, dance, and free your wild feminine.
I feel joy sharing my dream with you with the hope that it too will inspire you to dream big.
My professional background includes:
Massage Therapist for 10 years, specializing in pain and injury treatment & stress relief

Bachelor in Psychology with a minor in Sociology at CU Boulder

18 years of yoga training

Meditation practitioner for 15 years

Life Coaching Certification

Authentic Relating Leadership Training 

Workshops in Yogic Intimacy & feminine embodiment with David Deida, Nina Lombardo, and Lisa Page

Self-study, a life-long commitment to curiosity, humility, surrender, trust, and practices in unconditional love, understanding, and embodiment
I once lived with an armored heart, protecting me from the weight of the world. It has since dissolved, opening my feminine heart to be felt, received, and fully surrendered to the breath of life…
My purpose has called me into the role of a feminine mentor to support you in embodying your feminine essence so that you too can experience deep intimacy in life.
Follow me on Instagram, Facebook, or YouTube to get to know me and receive regular updates on practices and offerings.